Mark III Primer: HPE Ezmeral Platform for Modern Apps (powered by Containers)
If you need to run and operate apps built with containers for your organization and you don't want to install, maintain, integrate, and operate Kubernetes on a day-to-day basis yourself, we highly recommend using a platform like HPE Ezmeral, with HPE Ezmeral Container Platform at its core, to give you a (relatively) "easy button" to push to make this happen.
And ESPECIALLY if you're building and/or operating container-powered apps that require GPU acceleration (ie AI/ML, accelerated databases, etc), enterprise-grade integration with storage and networking, requirements around security, and/or need to run on infrastructure in the datacenter.
As we say all the time, very few companies are in the "Kubernetes/container business," where having a team dedicated to maintaining and building on a vanilla container orchestration platform represents a competitive differentiator… most of the time container orchestration platforms are just a means to an end and the value to the business lies in the software deployed on top of it.
From the Mark III perspective, our journey with Kubernetes started almost five years ago with community-driven, vanilla Kubernetes, so we've experienced the pains of being "broken out of the box" first-hand for a long period of time.  But an understanding of how challenging it was and still can be to implement vanilla Kubernetes has helped to give us a unique perspective and appreciation when it comes to working with organizations to rollout their container platform strategies and work with them as a "co-pilot" in the months and years after the initial deployment, even with enterprise platforms built on Kubernetes.
HPE Ezmeral and its ever expanding portfolio (we see you Determined AI!) offers a unique option in the industry as probably the closest portfolio to providing a true end-to-end platform for enterprises that need to build, deploy, operate, run, maintain, and scale container-driven apps, especially those that incorporate AI/ML and GPUs, and those that need to run in a hybrid model and/or in the datacenter.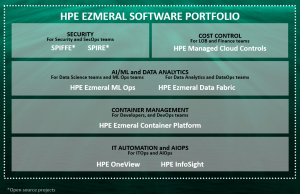 Ezmeral starts with its core Ezmeral Container Platform, but quickly builds "above" and "below" it in the stack to give enterprises a lot of options.
Need a core container platform for both Cloud-native (CPU) and AI-centric (GPU) use cases that's built on top of open source Kubernetes that's relatively simple to deploy and operate and that comes with robust enterprise support?  Check.
Scalable and secure data lake with a global namespace and persistent storage that can accommodate both traditional and modern container-driven AI and analytics stacks?  Yep.
Ability to take a container-centric view all the way down to the IT infrastructure to drive data center transformation for both traditional and HPC/AI IT Operations teams (and associated integrations for security/DevSecOps and cost controls/monitoring too)?  Got those too.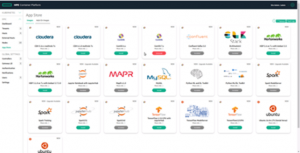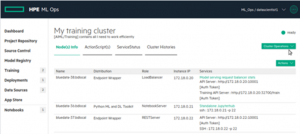 And with the recent acquisition of Determined AI (with its capabilities around distributed training, hyperparameter optimization, and experiment tracking), its pretty clear, from our "future casting" point of view, that HPE Ezmeral will likely be the first technology partner to offer the ability to truly go end-to-end, top-to-bottom for organizations looking to build an MLOps pipeline, offering the full stack of tools spanning the data scientists building AI/ML models, to DevOps/MLOps teams operating and scaling container-driven pipelines, to IT Operations focused on ensuring that IT infrastructure from compute/network/storage to security to monitoring are all architected correctly and optimized in the datacenter, in the cloud, and on the edge.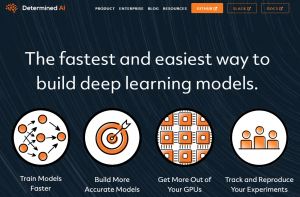 When it comes to AI/ML success at scale in large organizations, we've seen that having tools and cohesive strategies to support all 3 of these teams working side-by-side (Data Science, MLOps/DevOps, IT Ops) is critical to being able to build, execute, and scale the usage of AI…  where we see organizations have challenges is when one of these teams does not have what they need to be successful (even if the other 2 are in pretty good shape).
Bottom line?  There are a lot of ways to build out a container orchestration platform to run your organization's Cloud-native (CPU-centric) and AI/ML (GPU-centric) workloads.  If your preference is to partner for as much of it as possible, rather than build yourself, and you have a preference for minimizing the number of technology partners for simplicity and integration risk purposes, HPE Ezmeral is a great strategy to take a look at, in our opinion.
As always, let us know if there's anything our Full Stack team of data scientists, devs, DevOps/MLOps Engineers, and IT Architects can do to help!