It's time to upgrade to vSphere 7
It's time to upgrade to vSphere 7
Admins of all organizations face this decision every time a new version of vSphere is released – should I upgrade? Well folks, the answer is yes! vSphere 7.0 has been officially out since March 2020 and has had several updates and patches. Plus, with vSphere 6.7 charging towards EoGS (End of General Support), the time to begin upgrade planning is now.  Disclaimer – as with any upgrade, careful planning and testing is paramount – I recommend installing in a test environment first before ever touching production. Anyways, this blog is not about planning an upgrade or upgrade procedures, it is about all the cool features you can look forward to once you do upgrade! Let's dive into three of my favorites!
vSphere Lifecycle Manager
VMware renamed Update Manager to Lifecycle Manager and made some real nifty improvements. Cluster Image Management does exactly what it sounds like – manages the ESXi image for all hosts in the cluster. Pair that with desired state which also incorporates keeping server firmware/drivers up to date and you truly are managing the lifecycle of the ESXi hosts. One other thing – the recommendation engine will perform checks against the VMware Compatibility Guide – now that is awesome! Running consistent ESXi hosts is key to a healthy environment and vSphere Lifecycle Manager makes that job easier!
VMware Virtual Hardware v17
New version of vSphere = new version of virtual hardware. Two new features introduced are Watchdog Timer and Precision Clock. In a nutshell, here is what these features provide. Watchdog Timer – this helps a VM realize it has crashed and will reset it when the guest OS stops responding. This is particularly helpful with clustered applications and databases. Precision Clock – this enables VM's to be configured with sub-millisecond time accuracy. This will be of particular interest for financial and scientific applications where super accurate time is a requirement. Both of these can be added as a device on a per VM level.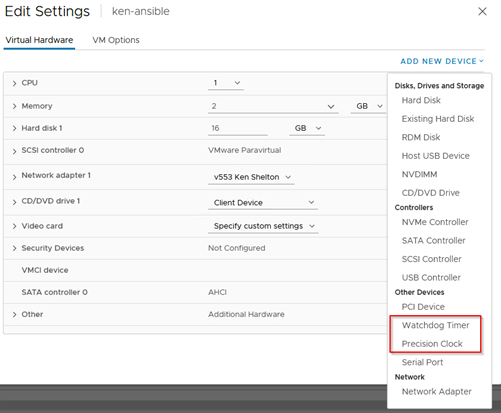 VM Template check-in and check-out
I love VM templates as they make VM deployment a piece of cake and enable the use of automation! Managing VM templates historically could be a bit of a challenge over their lifecycle. Now, with VM template check-in and check-out, it has gotten better. You can now maintain templates with versions. Once you have created a new template and copied it to the library, you can now check it out to make edits. Once the edits are complete, you check it back in to save the changes. When you begin making changes to the template, you will be able to see the templates versioning history with annotations documented along the way. If you are not utilizing VM templates in your environment, you should be!
Conclusion
Well, that rounds out three of my favorite new features of vSphere 7 and that only scratches the surface of the many other new features this release offers! vSphere 7.0 is a stable and mature release that can bring organizations great value with the new features it provides. Begin working on an upgrade plan – the time to upgrade to vSphere 7 is now! I am planning future blogs dedicated to both Lifecycle Manager and VM Template check-in and check-out complete with screenshots – so keep an eye out for those!