HIMSS19: Six of Our Lessons Learned for the AI and Digital Transformation Journey Ahead
As an Enterprise Full Stack partner at HIMSS19 this year, we had the opportunity to share our viewpoint into the future of AI, digital transformation and healthcare and our part in making this future real.  Like we presented on at HIMSS, what are some of the key lessons we've learned so far?
-Doesn't happen overnight – Don't over plan and do start now!  Like we always say here at Mark III, there is no project or SKU for innovation, its all about starting imperfectly then iterating as a collective team to deliver an awesome experience or deriving a unique insight to drastically improve the patient experience or care.
-Incremental roadmap with quick internal wins – Find a couple relatively easy goals to accomplish as a team on your way.  if you go for the giant end goal without incremental steps along the way, it's likely to fail.  You don't know what you'll come across as a team as you progress and the end goal may be totally different next week or next month than what you think it is today.
-Find and empower your builders and innovators – Not all innovators have a fancy title or have been anointed as such.  You'd be surprised what a creative, motivated developer and access to the right data can produce… you just need to find these people and empower them.
-Spin up an "ideas lab" – Find your builders and arm them with the right tools, platforms, and local culture to innovate.  We like to call this an "ideas lab" where we combine tools/platforms with some guidance from our innovators and builders to get your institution going.
-Open, centralized, programmatic data layer is key – if you can't get access to the right data, it doesn't matter how smart your builders and innovators are.  Since new techniques and frameworks are emerging literally month (just look at AI for example), your key data needs to be centralized and accessible to app stacks—past, present, and future.  The cool thing about AI is that you don't need to use classic algorithms and "program" for outcomes… you just feed it data with some notes within the context of your unique workflow, and off you go!
-Core/Edge is critical to the future – Much of the conversation with AI/ML/DL and analytics now is about the "core" datacenter or cloud layers… where the insights are derived.  But much of the future of where these insights will be experienced, felt, and reacted to are on the edge—in hospitals, in homes/offices/schools, on smart phones, and in the real world.  User experience and milliseconds matter, so any insights you come up with will need to have the ability to find its way naturally onto devices everywhere and in a user experience that regular people love (via "the pipeline).  We know that the present is challenging enough, but we think that the institutions that will lead will do a good job of factoring in this future today.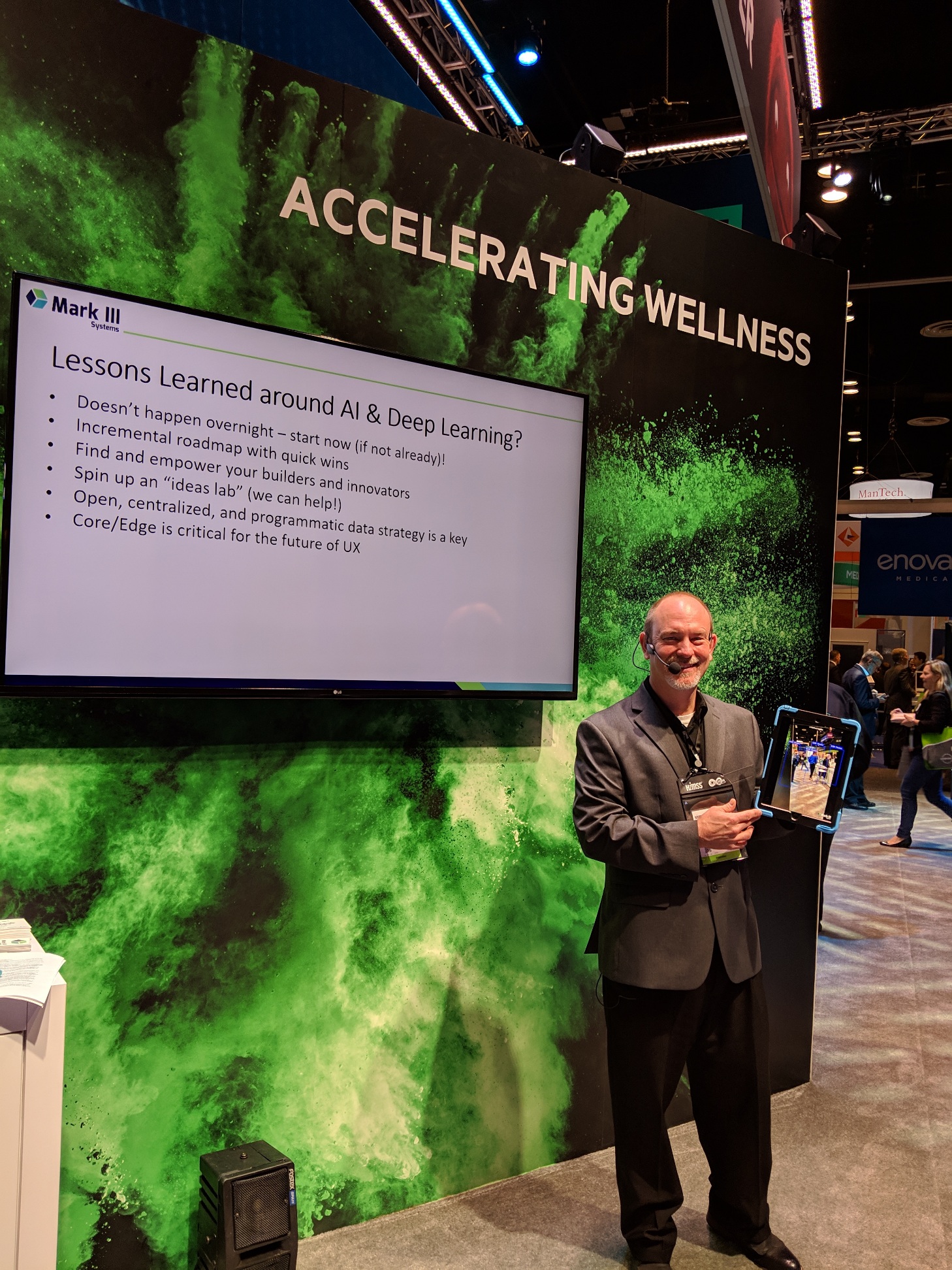 Rick Brown (Mark III Client Leader) at HIMSS19
To conclude, yes, Mark III can help you with all of this with our Full Stack approach of data scientists, devs, DevOps, system engineers, and healthcare consultants (if we were at HIMSS, we would give you one of our Full Stack pancake stress relievers…).  The future of healthcare is bright and exciting, we look forward to doing our part and sharing in future successes with you!