Hacking for the Next Breakthrough in Healthcare
Artificial Intelligence (AI), Machine Learning (ML), and High Performance Computing (HPC) are all fundamentally transforming how industries function and evolve everyday.  One industry in particular, healthcare, is being empowered by AI and HPC to harness the power and promise of digital transformation to reshape how care is delivered and discoveries are made, within healthcare providers, research institutions, payers, pharmaceuticals, and life sciences.  The goal is to enhance patient care, decrease the cost of medicines, and create better outcomes across the board.  The main driving force and catalyst encouraging these medical breakthroughs is HPC/AI and readily accessible technologies that can analyze vast amounts of data, especially in areas of significant personalized and predictive medicine.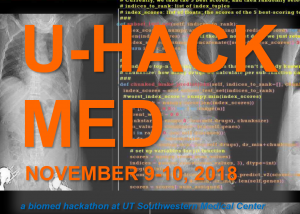 In November 2018, Mark III co-sponsored the U-HACK MED Hackathon at The University of Texas Southwestern Medical Center (UTSW).  This was the latest in a series of hackathons that Mark III has co-hosted with healthcare providers and institutions across the country, and was a 24 hour event involving some of the most brilliant minds in the ecosystem as they took on various challenges focused on "computational solutions and showcased the breadth and quality of research at UT Southwestern."  As with all hackathons and "builder" focused experiences that Mark III co-hosts, we contributed data scientists, developers, and engineers to help ensure that the maximum amount of time of these amazing clinicians, scientists, students, and SMEs was focused on tackling the challenges themselves and not on the nitty gritty aspects of code, navigating open source frameworks/technology and/or (excessive) data wrangling.
To read more about the Hackathon and some of the challenges tackled, please click the link below to read the full report, learn about the challenges, and what the teams learned from the hackathon: U-HACK MED 2018 Report.

As always, we're on the lookout for innovative healthcare institutions to partner with to tackle the toughest challenges, so let us know if you have any interest in learning more about our hackathons (we make it easy for you!), focused "builder" workshops, or how to work with our own full stack team of builders to assemble a stack to let your innovators innovate.