Denser than DISK: The NEW IBM DeepFlash 150 takes flash storage to new levels
512TB of FLASH in 3U?  7 petabytes of flash in one rack?  Less than $1/GB?  Really?
With the announcement of the new IBM DeepFlash 150, IBM has brought forth a uniquely designed flash storage system targeted at cost-effective, high-density flash deployments for unstructured data use cases, including Big Data Analytics and HPC.  Highly complementary to the existing IBM FlashSystem line (including models like the new FlashSystem A9000), which are more focused around database-driven, OLTP, and virtualization use cases, the DeepFlash line will enable clients to achieve incredible performance improvements at a cost-effective price points for unstructured data use cases (which make up around 80% of enterprise data today).

Combined with IBM's award-winning Spectrum Scale software, the DeepFlash 150 is an incredible Exabyte-scale, high-density platform to enable data storage stacks for use cases like Hadoop/Spark, NoSQL databases, HPC, Research, and OpenStack, for both file and object-based storage accessibility.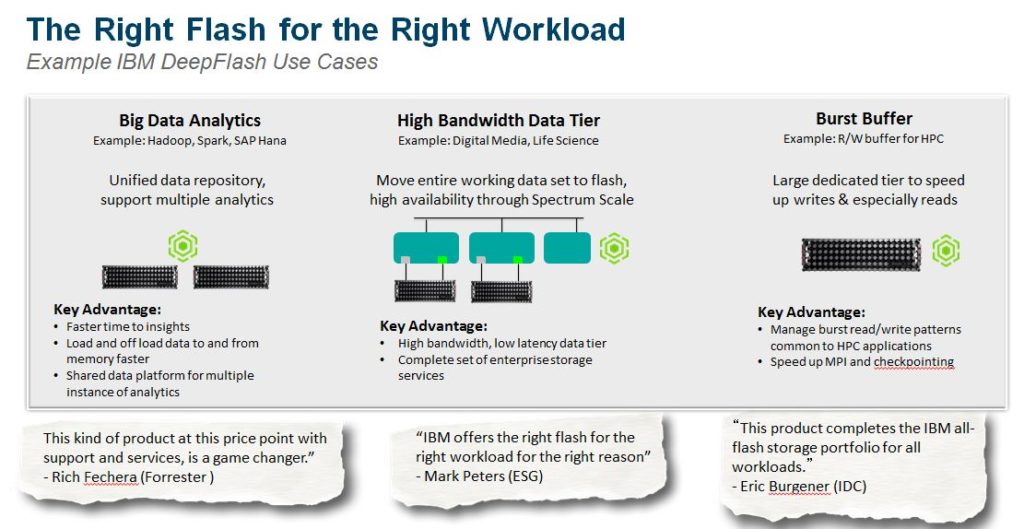 Although the DeepFlash 150 does not necessarily NEED to be attached to Spectrum Scale, there are a lot of unique benefits that come with its attachment (as this next slide points out):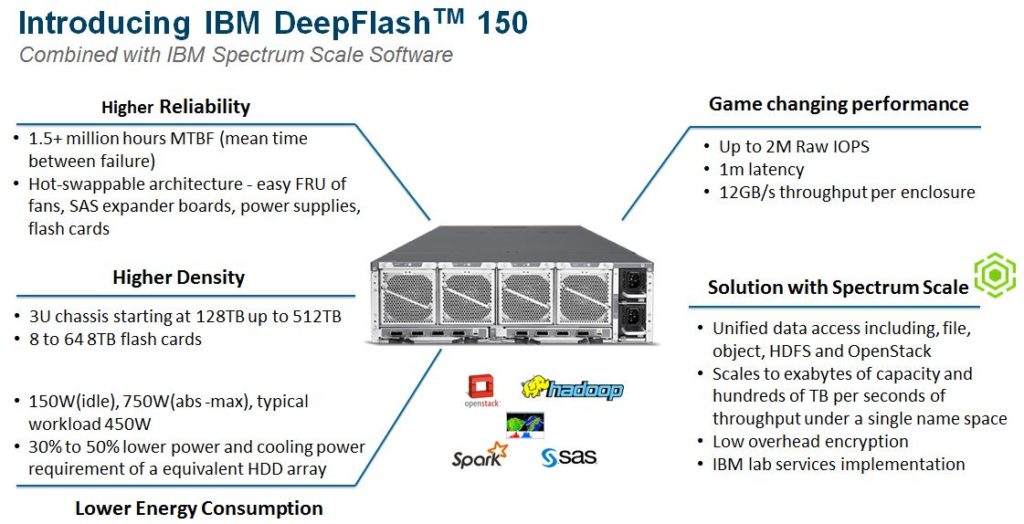 From a Mark III perspective, we see some exciting potential with this system, as it relates to not only HPC and Research, but also supporting the huge data needs of the fast emerging wave of digital applications, most of which use "shared nothing" compute architectures within which we strongly feel that the DeepFlash 150 will excel in.
Whether you're looking for guidance at the system/storage/networking level or higher in the stack from a DevOps or developer/design perspective, Mark III is ready to assist.  Feel free to reach out via chat in the bottom right hand corner if you'd like to continue the conversation!