OpenStack Summit Austin 2016: Four of our key takeaways
Mark III attended the OpenStack Summit in Austin last week.  With over 8,000 people in attendance, the summit (which is half-conference, half-design summit) has quickly become one of the most important conferences for enterprise cloud in the industry today.  Here are some key thoughts and takeaways we had from our time there:
OpenStack is well beyond the inflection point:  By this I mean that OpenStack is now truly enterprise mainstream and widely accepted, even by most of the skeptics and analysts who had doubted the reliability and cohesiveness of the movement just 2-3 years ago.  The last Summit that I personally went to was San Diego in 2012 and the difference in size and tone between the two conferences was amazing.  As a company, Mark III has always had the opinion that OpenStack would emerge as the standard for the new digital, developer-centric cloud stack and its exciting to see so much momentum in that direction within that specific part of the industry.  This is not to say that OpenStack can solve every enterprise IT challenge today... it still needs to be utilized where its strengths are, but it now very much plays a key role in the future tech strategy for many enterprises and service providers.
OpenStack has evolved into the de facto standard for on-premise, developer-driven digital clouds:  Just like VMware emerged as the de facto standard for enterprise virtualization of traditional "core" applications over the last 10 years, OpenStack is really now the standard for enterprises and service providers that want to build an on-premise or hybrid cloud infrastructure stack that caters to cloud developers and DevOps engineers building digital applications.  There are, of course, many more options when one looks at the public cloud arena, but when you examine the choices within private digital clouds, OpenStack really is the strongest option that is genuinely developer-focused.
OpenStack is seeing a lot of momentum in HPC:  OpenStack originally grew up around on-premise and public cloud use cases for digital cloud applications, but we've been taking note of the momentum in HPC/Research use cases, many of which were featured at OpenStack Summit Austin.  Austin's own Texas Advanced Computing Center (TACC) was a keynote presenter and touched on in great detail their usage of OpenStack across two of its premier HPC clusters, both which debuted OpenStack functionality within the last year.  There were many more examples of HPC use cases from all over the world featured at the conference and many of these panels/sessions were the most interesting for us to be a part of.
Containers everywhere:  Docker.... CoreOS.... Kubernetes..... If you want to draw a crowd to your session, just include one of these container-related words in your session brief.  Being a developer and DevOps focused conference, it does make a lot of sense why containers are featured so prominently at OpenStack Summit.  Although there were many sessions and use cases featuring containers, it does still feel a little early on the adoption curve for "mainstream" enterprises to adopt containers in Production, but you can definitely feel the momentum building.  This is definitely something we'll keep an eye on and an area that we're investing in from a skills standpoint to help guide our clients within the context of their existing strategies.
Here are some of the sights of the Summit: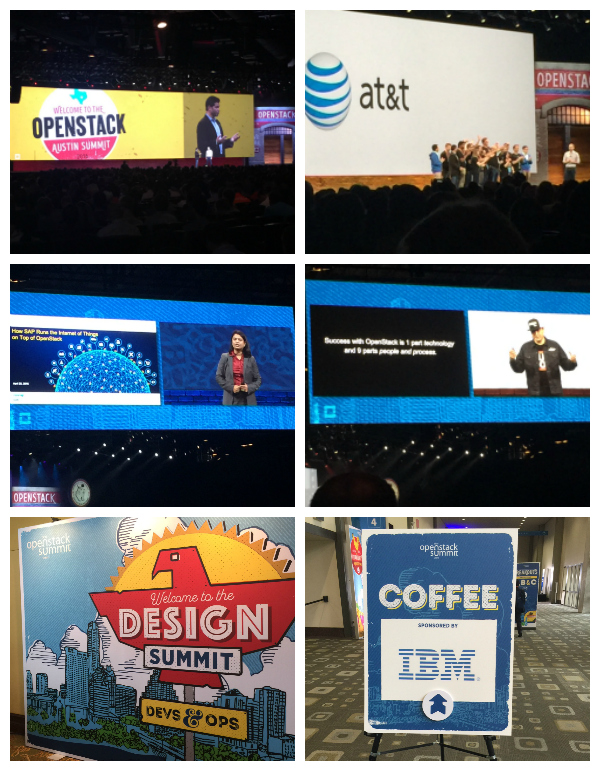 From a Mark III perspective, OpenStack will continue to be a big part of our strategy at helping clients architect, implement, optimize, and maintain their on-premise and hybrid digital cloud strategies.  These strategies for digital stacks complement existing "core" applications, both of which require different approaches and different skillsets (and both of which Mark III can offer deep expertise and assistance).
Whether it be providing OpenStack-centric infrastructure solutions powered by our many partners, including IBM, or the expertise/code of our OpenStack-savvy engineers, or access to our OpenStack digital demo center in our Houston Client Lab, please let us know how we can help!