5 Reasons why I love SD-WAN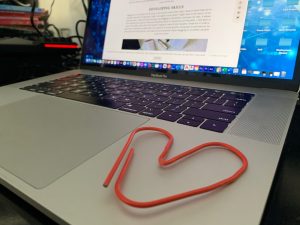 In the spirit of the month of February, the month when we celebrate love, I am writing about what I LOVE about SD-WAN.
When I stood up my first wireless WAN infrastructure, I noticed differences between wired and wireless: the performance was typically better, more consistent and stable, across the WAN link on the wireless. That caught me by surprise. It's easy to get caught up in the frustrations and tasks of our jobs, especially around SD-WAN, since there are many challenges and things out of our control. So I want to share 5 things that I love about SD-WAN, things to remember when I get frustrated or when things just don't go as expected.
The Creativity
I love creating things, things that I can touch and feel and visualize. I love thinking about, creating, and deploying different solutions to solve the challenges of connectivity across the WAN. With more solutions and now services in this space of SD-WAN it is getting easier to find a solution that will fit each challenge. However, even with the solution easier to achieve, sometimes the challenge becomes a stakeholder buy-in. Being able to fully understand the SD-WAN solution is key with gaining the needed buy-in from key stakeholders which adds for additional creativity as well sometimes.
Developing Skills
SD-WAN isn't just about connecting a site to your datacenter or cloud infrastructure. With technology and challenges changing from day to day, SD-WAN is about doing exactly what SD-WAN was built for: adapting and learning new ways to solve challenges in order to get to your data or applications. Our only limits are our inabilities to change to something new.
The Technology
There are so many new players, as well as tried and true partners in this space. To name a few that I use, trust, and love are:
Aryaka: a complete service solution that can handle everything or some of what you need for SD-WAN as a service. They help with the challenges of growth without the headache of staffing personnel to support the growth.
HPe/Aruba/SilverPeak: SD-WAN branch solutions inline or out of band and also Wireless Access points in Remote access point mode.  TCP Optimization, fully orchestrated overlay creation, and VoIP optimization.
Fortinet: unified configuration and operating system, the only thing that changes depending on the size of the branch site is the size of the hardware itself and this can be either a physical or virtual appliance.
Palo Alto/Cloudgenix: a simplified management, enable app-defined SD-WAN polices, and secure protection with the industry leading next generation firewall.
Dell/VMware/Velacloud: Hybrid WAN, PCI compliance and automation and allows extension of policies throughout your SD-WAN play.
Juniper/Mist: AI-Driven WAN that combines our SD-WAN solution with insights and automation driven by Mist AI. It delivers simplicity, reliability, and agility that IT teams need in the modern era of distributed networking.
This variety of options also provides challenges: most of these solutions can achieve close to the same thing. Having a trusted agnostic VAR/partner is key to navigating all of these great technologies to make the best fit for you.
Helping our Family
From SLED accounts to Enterprise, helping our accounts' "families" is so very rewarding in itself. Each account has its own challenges and situations that create different creative opportunities to build something reliable and great. I truly love this industry. Customers and vendors are helpful in achieving success together.
Expressing my Passion
When I clicked the publish button for the first time, I was nervous what my peers in the industry would think about my knowledge and insight on SD-WAN. I felt the information was important enough for me to share, so I pushed past my tendency to passively sit back saying nothing. Some of you that know me would say that I am definitely not the quiet one in the group, and I tend to dominate conversations with my ideas. But when it comes to the internet reading what I have to say, I am a little shy to speak up. When I find myself in a trusted group of peers my guard comes down.
Now it's your turn to fall in love all over again with SD-WAN. Try opening up to new ideas and ways to achieve better solutions, not only for your love of SD-WAN but for your company's love of SD-WAN. Let's all work together to build a better remote future!